Resilience and Business
Continuity Services

Resilience and Business
Continuity Services
When analyzing the business landscape over the years, organizations have been subject to multiple turbulences and disasters, be at the macro level of wars, natural disasters, collapse of the financial systems or directly affecting the organization. These are the instances at which organizations' resilience is put to the test and reflect how proactive they were in managing the surrounding risks to ensure business continuity.
We have seen major conglomerates collapse in the face of disasters, which are not just about those caused by fire or flood or the failure of technology; they could be about the collapse of key suppliers or customers, fraud, unethical operations, and about reputation management. Furthermore, with the rise of e-business and reliance on technology, there are real threats associated which require that the electronic environment be adequately protected in terms of security policies and procedures, built-in resilience and effective recovery arrangements.
Hence, business continuity management (BCM) gained a higher profile on governments, regulators and boardroom agendas. Whilst governments have a responsibility to ensure the resilience of their institutions and continuity of the critical activities and services; they also have a wider role in partnership with the private sector to ensure that reasonable business continuity measures are in place.
In recent years we saw a stronger regulatory requirements driven by governments was apparent in the formation of the National Emergency, Crisis and Disasters Recovery Authority which issued a standard for resilience and business continuity to be implemented and followed across the government institutions.
Board members and senior executives, on the other hand, need to be in a position to evaluate and enhance the status of BCM within their organizations.
Ask yourself…
Are you satisfied with risk management and business continuity management in your organization?
Can your organization manage through a disaster better than your competitors? If it can't, would it survive?
Are there plans in place to ensure the safety of your employees, assets,your customers and the general public? If not, what are the legalimplications and would your organization be irreparably damaged as a consequence?
Is there a plan to deal with the media if a disaster strikes, or would it be a free-for-all with several different stories or versions emerging?
What is BCM then?
"A holistic management process that identifies potential threats to an organization and the impacts to business operations those threats, if realized, might cause, and which provides a framework for building organizational resilience with the capability of an effective response that safeguards the interests of its key stakeholders, reputation, brand and value-creating activities." (Source: ISO 22301:2012)
The BCM Lifecycle
Improving Organizational Resilience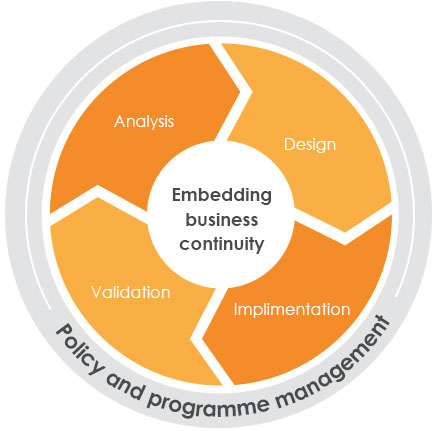 How can
R

ISKTAL


help you
At RISKTAL we bring to you an integrated approach of combining our risk management expertise with the subject matter expertise of BCM to optimize the value of our deliverables to you.
All our services at RISKTAL can be delivered to you in both English and Arabic.
RISKTAL can help you in your resilience journey through:
Independent assessment of the BCM framework.
Independent assessment of BIA.
BCM program management assurance.
Develop BCM framework.
BCM program management advisory.
Develop BCM plan.
Conduct Risk assessments.
Business impact analysis.
BCM intelligence reporting and dashboards design.
Awareness workshops.
Awareness campaigns advisory.