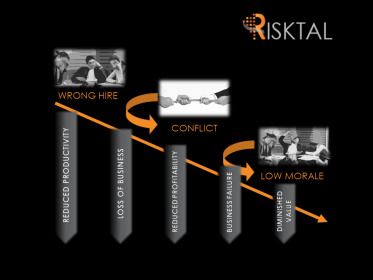 The Domino Effect of Wrong Hires
August 1, 2019 | By Risktal Thought Leadership
How much time gets wasted when the wrong person is hired for a particular position?
How detrimental is it for employees' morale when dealing with the wrong hire?
How bad is the impact of the wrong hire on productivity and success of the organization?
Short Answer to the above is – "A Significant Negative Effect"
We noted that many decision making positions are being filled by individuals who are not suited for the job, through the wrong channels, to satisfy certain "plans" (for search of a better word). Whether the stakeholders wish to hire a relative, someone they can control, a yes person or a facilitator the impact on the organization remains negative.
The biggest beneficiaries of wrong hires are the wrong hires; as irrespective of the detrimental impact they had on the organization, including loss of good employees; they continue to receive their compensation.
Our Message to Business Owners and Boards of Directors – 
Ensure effective recruitment processes are in place to ensure the right caliber is attracted and recruited for the designated job;
Ensure alignment of the designated positions with the overall organizational strategy;
Ensure an effective performance management system is in place;
Ensure transparency in communication from the top-down and feedback from the bottom-up;
Ensure clarity of roles & responsibilities and well established Accountability;
And more…..
Risktal can help you – 
As a highly skilled independent partner with a focus on organizational success we are can help you get this matter right, from Organizational Development to recruiting and retaining the right human capital.