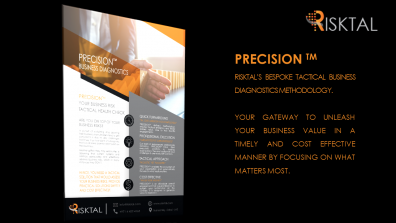 PRECISION Business Diagnostics
Your Gateway to Unleash Your Business Value
June 30, 2020 | By Risktal Thought Leadership
Today's economy imposes daily challenges on businesses in the UAE, the region and globally, leading to organizations downsizing or going out of business which is followed by significant socioeconomic ripple effect.
COVID-19 caught the world by surprise and revealed significant vulnerabilities in organizations' risk management practices and the way they traditionally conduct business. Unfortunately, many stakeholders still refuse to accept the new reality and persevere in their current practices with the current resources, in denial of the need to be agile and respond proactively to the newly emerging risks.
In light of a shrinking economy, the appetite to spend is at an all-time low, specially on consultants. Nevertheless, at RISKTAL we believe that these times present the optimal opportunity for a real transformation, which can only get initiated by knowing and acknowledging the reality of how well your organization is positioned to address the surrounding business risks.
Consequently, we devised a solution that would cater for the current market needs, which provides you with the required visibility of your business reality at an affordable cost and quick turnaround one-off engagement. PRECISION is our bespoke tactical business diagnostics methodology, that ensures a holistic assessment that focuses on the things that matter most.
For more information about PRECISION get in touch and request the product overview and let's get the conversation started.
It is time to embrace CHANGE and PRECISION is your gateway to a real transformation.