Global Risks Outlook 2018
Explored!
January 26, 2018 | By Risktal Thought Leadership
Flashback 
It was a year ago when Risktal previewed the World Economic Forum's assessment of the global risks for fiscal year 2017 Risktal's Insights Global Risks 2017 which identified 2017's top five risk topics as:
Economic growth and reform.
Rebuilding communities.
Managing technological disruption.
Strengthening global cooperation.
Accelerating action on climate change.
Upon reflection of our views in relation to 2017 risks, we highlighted the risk of uncertainty after the change in presidency of the United States; and certainly 2017 has proven to be such a spectacle in that respect. Amongst the controversies surrounding the new president, and the media frenzy that has become the epithet of the year, the new direction gave rise to new geopolitical, economic and environmental risks, which 2018 and the years to follow will be the recipients of their impacts; the most prominent of which is the rising tension with North Korea increasing the likelihood of nuclear and weapons of mass destruction attacks.
Now that the first month of 2018 is coming to an end, we have already embarked on a new year that is bringing within its folds new sets of risks and opportunities. Similar to last year, we will preview the key global risks identified by the World Economic Forum for the remainder of 2018, and provide our views about the key risks that we believe are more relevant and prevalent to the Middle East.
Top 5 Global Risks
Top 5 Global Risks in terms of Likelihood
Based on 2018 risk outlook, environmental and technological risks dominated the top 5 risks in terms of likelihood of occurrence. The environmental risks are characterized with extreme weather conditions and potential failure of climate change mitigation. Technological risks have taken more priority as 2017 experienced major attacks of ransom-ware e.g. wannacry that have infected governmental agencies.
Following are the top 5 risks in descending order starting with the most likely to occur:
Extreme weather events.
Natural disasters.
Cyberattacks.
Data fraud or theft.
Failure of climate change mitigation and adaptation.
Top 5 Global Risks in terms of Impact
The outlook for 2018 has been dominated by environmental risks which overlap with those assessed to have the highest likelihood of occurrence; nevertheless, the top spot was for the geopolitical risk of weapons of mass destruction. Also a societal risk of water crises found itself to the top 5, which one could argue is another environmental risk.
Following are the top 5 risks in descending order starting with the one with highest impact:
Weapons of mass destruction.
Extreme weather events.
Natural disasters.
Failure of climate change mitigation and adaptation.
Water crises.
Risktal's Views
It has been surprising to see that the most likely to occur risks for 2018 did not include any societal or geopolitical risks while they were amongst the top 5 in 2017's outlook. These related to large scale involuntary migration and large scale terrorist attacks. In our opinion, 2018 will continue to witness areas of unrest around the globe, in particular in the Middle East and it is anticipated that the risk of refugee migration will continue throughout this year.
The US policy about illegal migration will also drive change in the immigration patterns and regional demographics.
None of the economic risks have been featured among the top 5 since 2015, which also is surprising, taking into account that the financial markets specially in the US have experienced record growth in 2017 which we wonder what would be the fate if there were unanticipated changes to the presidency.
2017 also experienced an unusual economic risk, driven by accepting crypto-currencies especially Bitcoin in mainstream trading, which could have significant implications on business transactions.
Also during the World Economic Forum held in Davos this month, US has expressed its withdrawal from the Trans-Pacific Partnership, leaving Canada and another 10 countries to enter a new TPP without the US, which will have repercussions on the global trade and economy.
Further, the development of Block-chain technology and its applicability to business processes in the different industries is anticipated to be another technological risk.
From a risk impact perspective, it somewhat is reasonable to have the risk of weapons of mass destruction taking the lead, in light of rising tensions between US and North Korea; and the potential US' withdrawal from the Nuclear agreement with Iran.
Global Risks Landscape
It might be useful to preview how the key global risks were rated in terms of their likelihood of occurrence and impact. The World Economic Forum's report categorizes risks in the following groups, and you will find the corresponding risk landscape within each:
Economic Risks Landscape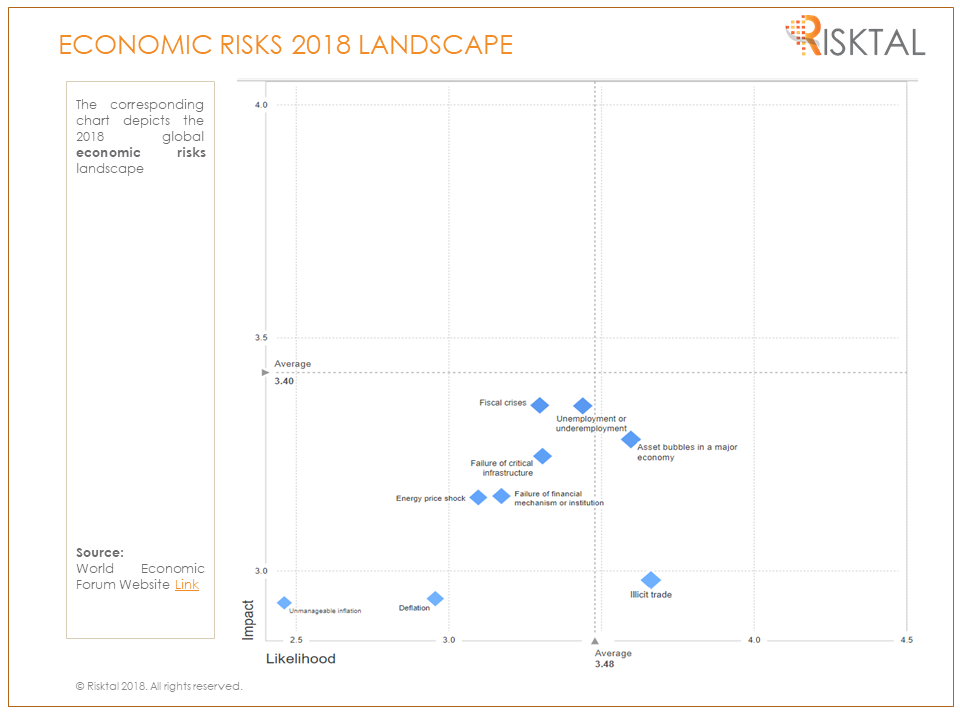 Geopolitical Risks Landscape
Societal Risks Landscape
Environmental Risks Landscape
Technological Risks Landscape
Global Risk Trends
The risk outlook report identified 13 risk trends which has been defined as "as a long-term pattern that is currently evolving and that could contribute to amplifying global risks and/or altering the relationship between them". These risk trends are:
Increasing national sentiment.
Changing landscape of international governance.
Shifting power.
Increasing polarization of societies.
Rising income and wealth disparity.
Aging population.
Rising cyber dependency.
Rising geographic mobility.
Growing middle class in emerging economies.
Rising urbanization.
Degrading environment.
Changing climate.
Rising chronic diseases.
Risktal's Views
After reviewing the trends' risks dependencies, it is apparent that geopolitical and societal risks have the most significant implication over the majority of the identified trends.
Technological advancements and dependency rendered the world subject to new sets of risks. We are noticing businesses progressively abandoning traditional infrastructure platforms and shifting to cloud technology; also cyber-attacks are becoming more sophisticated and more damaging.
Global Risks of Highest Concern When Doing Business
Another area of interest in the report was listing the key 29 risks of highest concern when doing business globally which were also tailored to specific countries.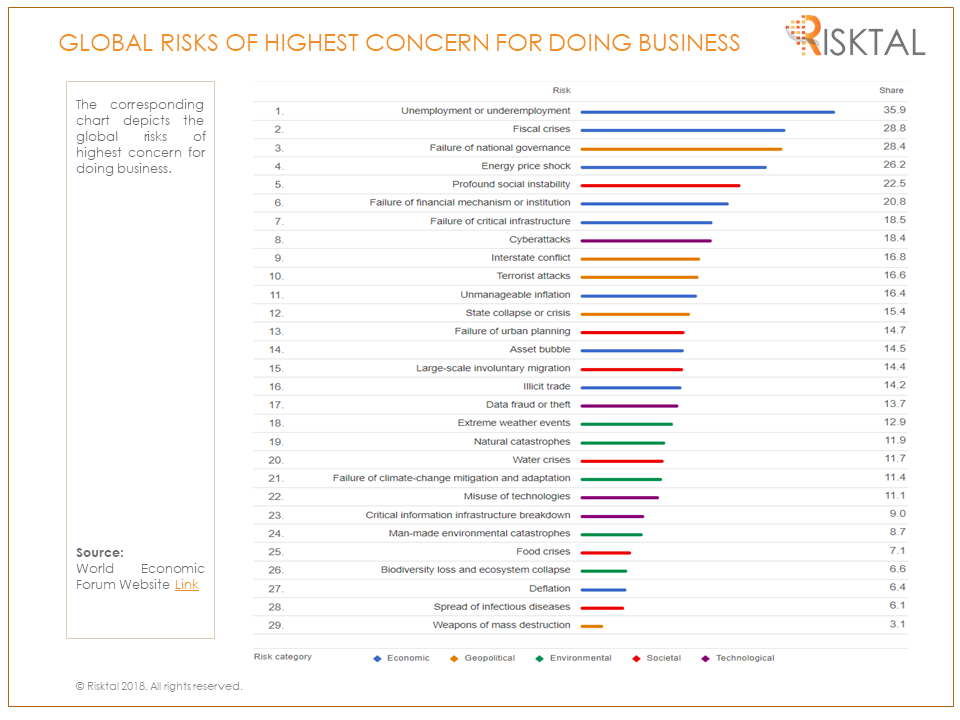 It was interesting to see that finally the economic risks made an appearance, as risks of unemployment and underemployment, fiscal crises, energy price shock, failure of financial institution and failure of critical infrastructure were amongst the top 10 risks.
Surprisingly risk of cyberattacks ranked 8th on the global scale.
Risks of Highest Concern When Doing Business in the UAE
If we compare the top risks that impact working in the United Arab Emirates to the Global risks, we found the following: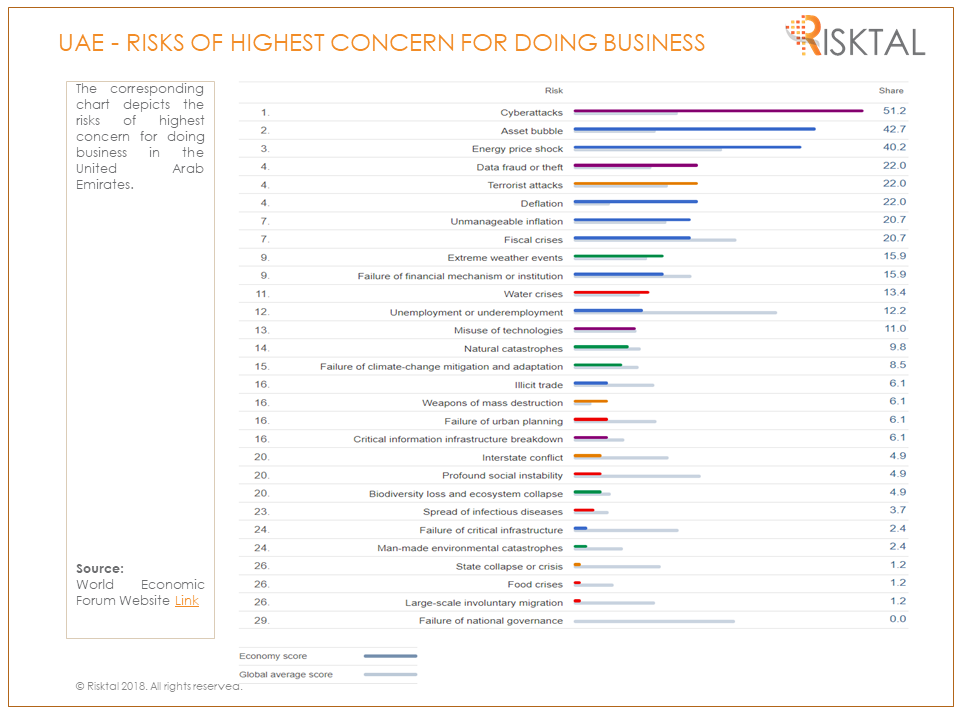 Cyberattacks took a lead at the key risks to consider; which is no surprise as in 2016 the UAE has been reported to be the target of 5% of the global cyberattacks. It has also been reported that in 2017 cybercriminals stole AED 3.86 Billion (US$ 1.05 Billion) from 3.72 million consumers.
The apprehension about the real strength of the economy in the UAE is apparent with the risks of assets bubble, deflation and unmanageable inflation popping up high on the list.
The geopolitical tensions with Qatar and Iran and the war in Yemen that the UAE entered in alliance with Saudi Arabia, increased the risk of terrorist attacks, rendering an additional investment and government spend on security and defense.
Unemployment and underemployment risk in the UAE is 66% less important compared the global rating which is attributable to dependence of the economy on expatriates who would be hired for certain jobs. Nevertheless, there are serious governmental efforts to introduce national talent to the workforce.
Conclusion
According to the World Economic Forum's report, a "global risk" is an uncertain event or condition that, if it occurs, can cause significant negative impact for several countries or industries within the next 10 years.
We are living in an extremely dynamic environment; the increasing dependence on technology and change in consumer behavior and spend trends expose the world as we know it to change and rapidly.
Whilst some risks are not within one's control, we do however have better chances at surviving a mine field if we know where the mines are; hence it is important to identify and monitor your risk environment and never cease to innovate.