Family Businesses
The challenges and way forward
March 13, 2017 | By Risktal Thought Leadership
The Middle East especially the GCC countries are home for some of the most prominent and successful family businesses regionally and internationally. Backed up by a predominantly oil driven economy there has been an increased governmental investment in nationalization initiatives and upskilling their national talents to enable them to continue the journey of growth that many of the GCC countries have embarked upon.
For those who are not quite familiar with the influence of family businesses in the Middle East it is imperative to understand that families tend to dominate some of the most vital industries from construction, hospitality, real estate, pharmaceuticals and fast moving consumer goods.
Some currently publicly or privately listed companies have started as family businesses. Under no circumstance should one be under any false impressions that once these companies went public the family ceased to have pull on the organization.
Saying all of this, no matter how large the business may be, family businesses are subject to the same dynamics that a family goes through, these challenges could be:
The relationship between the parents and children and any favoritism or bias.
The competence of the children to manage the business.
The distribution of wealth.
The cultural and regulatory norms of distributing inheritance as a male is entitled to twice the share of a female in inheritance in accordance with Islam Law which is the prevailing law in personal status matters in the region.
The authority and control amongst the siblings as the business is passed to the next generation.
The governance of the business and commitment to growth.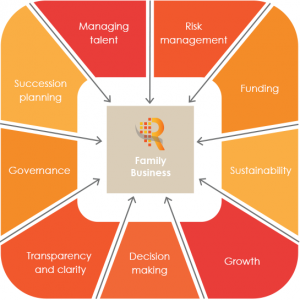 Risktal's approach to family business advisory is designed to derive the utmost value to both the family members and the business processes, through considering a multi-dimensional methodology that takes into consideration:
Governance.
Risk management.
Succession planning.
Funding.
Managing talent.
Decision making.
Transparency and clarity.
Sustainability.
Growth.
It is never an easy task to have external parties getting involved among family members; however, the seniority of our experts and their life and professional experience ensure rather seamless interaction among the family members and adding value while maintaining objectivity throughout.
We welcome you to visit our Growth Solutions Section on our website Organization Growth Solutions Offerings and are quite keen start the conversation with you.