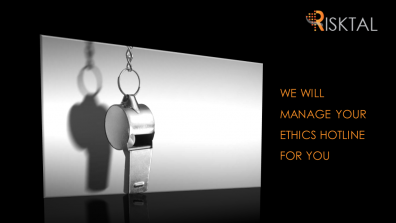 Did You Know: We Can Manage Your Ethics Hotline For You!
We Give Truth To Power
March 2, 2020 | By Risktal Thought Leadership
Fraud and Corruption are progressively on the rise despite better governance, controls and advanced audit techniques.
Collusion is an area that is extremely difficult to detect unless a whistle was blown. Whilst some organizations have an Ethics Hotline, it is generally directed at internal whistleblowers, which to a large extent fails to capture external parties' feedback.
RISKTAL provides a full suite of white-collar Forensic Advisory Services Link, and we acknowledge the importance of a holistic Ethics Hotline that:
Captures both internal and external whistleblowers;
Easy to access and operate;
Protects the identity of the whistleblowers;
Accurately captures the facts;
Objectively and promptly escalates the issues raise to the right parties; and
Follow up on the resolution.
RISKTAL's Outsourced Ethics Hotline Services
We believe that internal Ethics Hotlines have their limitations as they rarely have a perception of independence. Accordingly, we have launched our services of being your outsourced service provider to manage your Ethics Hotline. Not only are we experts at the better practices of Fraud and Corruption Prevention Link , we also are experts are fraud investigations and detection using advanced techniques.
We invite you to contact us, have the conversation and get your Ethics Hotline up and running.