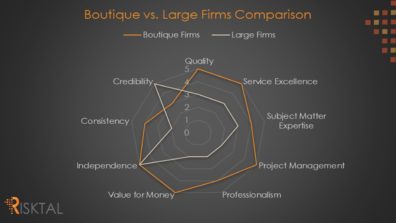 Boutique Firms or Large Firms?
Who make the better consultants for you?
October 9, 2016 | By Risktal Thought Leadership
Despite organizations' best endeavors to plan their human capital requirements and recruit the best suited talents to fulfill their visions; often do organizations seek professional services of consultants and/or contractors for a number of reasons namely, but not limited to:
The need for specialist skills for a specific project to which it is not feasible to have full time employment.
Need for a party knowledgeable in regulatory requirements and/or business specifics to inform investors about a venture's attributes, risks and opportunities.
Capitalize on the brand of some consultants to have better credibility at lending agencies and secure more funding.
Lack of available resources to conduct the required tasks.
High recruitment and employee retention costs.
Obtain independent opinion on a particular topic.
Once the need has been identified, then comes the question about sourcing the most suitable provider for the required services. Without dwelling too much into procurement strategies and sourcing better practices, in this article our focus is on two types of consultancies; boutique firms and large international firms.
What is a boutique consulting firm?
A boutique consultancy is a small consulting firm that provides specialized professional services for particular segments of the market. Predominantly it is formed by subject matter experts who are specialists in particular fields of business or industries, which gives them a niche in those areas.
Once you reach that cross roads to decide what better suits your business needs when appointing a consultant, whether it is a boutique firm or a large organization, things tend to become a bit confusing. For those who have had the unfortunate experience of choosing the wrong supplier, they can relate to this article, as they would have discovered, the hard way nevertheless, the painful burden of dealing with unprofessional suppliers and the exuberant cost of rework of mediocre quality.
Consequently, to simplify the comparison between boutique and large consulting firms, we looked at nine key criteria that combined technical, commercial and other attributes namely:
Quality of services and deliverables.
Services excellence.
Subject matter expertise.
Project management effectiveness.
Professionalism.
Value for money.
Independence.
Consistency.
Credibility.
What are the results of the comparison?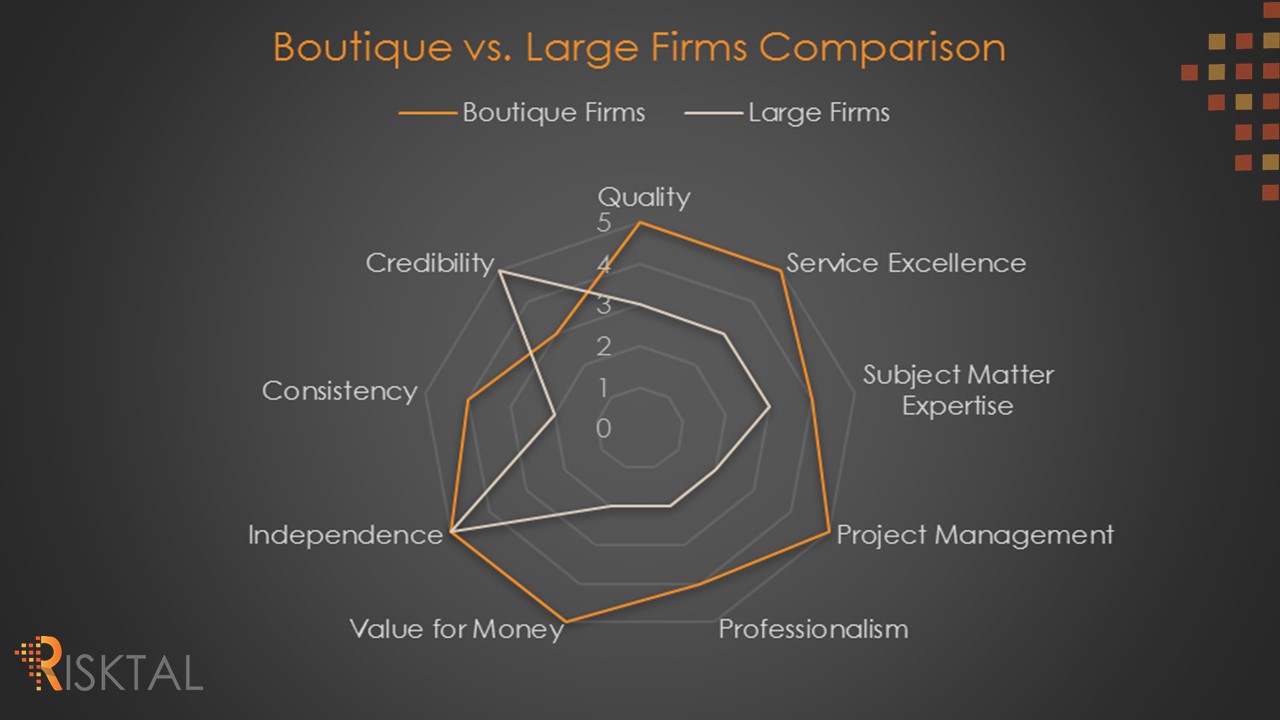 In general, the choice of  a boutique firm over a large one or vice versa, is highly dependent on the objective of the services required.
So if an organization is seeking the power of the brand and credibility it holds to secure funding or provide a level of assurance to third parties, then you are more likely to choose a large firm.
However, if the organization is seeking specialist advisory services that are intended to be benefited from to improve the business performance and enhance the operations, then boutique consultancies are the to-go-to option.
Based on the analysis, in terms of added value capabilities and value for money, boutique firms have an advantage over large firms in the areas of their expertise. On the other hand, Credibility remains the winning hand for large organizations power by the established brand.
Following are the results of the comparison: