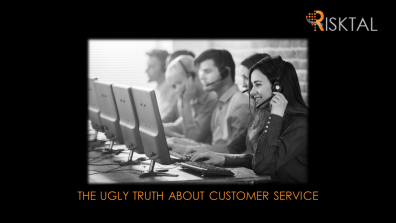 A Simple Guide to Destroy Your Organization
The Ugly Truth About Customer Service
February 11, 2020 | By Risktal Thought Leadership
Establishing Context
First let us start by dropping the following questions; to which if you had a "yes" answer, probably it is best you stop reading the rest of this article:
Is it acceptable that a person who studied geography and had work experience in an admin job be hired as a medical doctor?
Is it acceptable for a medical doctor to be hired as an architect?
Is it acceptable that an architect be hired as lawyer litigating in courts?
For a reasonable person, who believes in the requirement for relevant qualification to conduct a particular job or task, the answer is a big "NO" for all the above.
In An Ideal World, An Organization:
Identifies a need for a position to fulfill its strategy;
Defines the skill-sets and attributes required for that position, typically in a Job Description document; based on which
Conducts a search for the most suitable talent; subsequently
Conducts an impartial assessment based on the defined attributes, the candidate's ability to fulfill the requirements of the position as well as live up to the values of the organization;
Holds on-boarding induction for the successful candidate and clearly communicates organization's values and expectations of the role;
Holds specific training for the role to ensure the successful candidate conducts the role to the quality standards of the organization;
Monitor and evaluate performance and provide candid feedback to the candidate.
Again for a reasonable person, this process represents the bare minimum that should be done to ensure that the right person is in the right position for the right reasons.
Now that we have established the context in which a reasonable person regards competence requirements to fulfill a particular position and how that position is ideally filled, let us focus on this area of a business that single handedly could destroy an organization which is "Customer Service and Satisfaction Management".
"When you take things for Granted the things you are Granted get taken"
Customer Service and Satisfaction functions in organizations often get taken for granted, and often is considered the "dumping grounds" for search of better word, where business units transfer undesired or under-performing resources. This is the ultimate mistake an organization could make.
Simply put, whoever is facing customers in an organization is the most dangerous and valuable asset at the same time. You might have an amazing product, technical team, facilities etc. but it is enough for one bad interaction with the customer service personnel to turn clients off the whole organization.
There are significant claims for service excellence, driving happiness and consumer satisfaction at government and organizational levels. Unfortunately, many of these initiatives are nothing beyond media stunts to promote a perception of excellence, while the devil lies in the details mainly in Execution and Governance.
How Many Times Have You Encountered the Following?
Met a customer service agent with a bad attitude;
Met a customer service agent who is not capable of communicating verbally or in writing;
Escalated to a supervisor who is more incompetent that the agent in question;
Given "lip service" with no tangible action or resolution to the issue;
Sent complaints that fell on deaf ears;
Received meaningless responses to complaints only so that the customer service agent could close open complaints and satisfy his/her internal KPIs without effectively resolving the issue.
What Organizations Fail To Understand And Address Are The Basics Of Customer Service:
The person facing the customer is not representing his/her background, mood or personality, he/she is representing the organization they are working at. Accordingly, he/she should be the embodiment of the organization's values. Once he/she accepted that position, the internal politics, domestic issues or other crisis should be sheltered from customers otherwise a recipe for disaster is ready to blow up;
The person who has been chosen to represent an organization and interact with customers should maintain the attributes and qualifications to satisfy that role and not any misfit should be transferred to customer service roles;
Extensive training should be undertaken by customer service personnel, with strict assessment criteria and only after they have satisfied those criteria they should be allowed to face customers under supervision;
"He who is immune to punishment is free to misbehave". Accountability is key, no offence against customers should go unpunished.
The Formula For Excellent Customer Service =
Genuine Smile & Attitude to assist customers + Competence + Good Communication + Accountability
A Message To Executives
If you care about your organizations' success, start by focusing on your customers. Stop hiding in your offices, take your coffee in the field and put your experiences into what matters versus your internal politics.
Hiding in your offices will eventually bite you after your reputation is tarnished due to the behavior of even one staff that you might recognize his/her name on your payroll. It is time to wake up and start action.